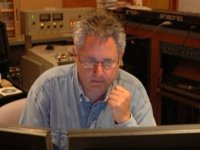 The Other Important Part of Any Production
is the Producer
I am Dan Geocaris and I have been producing audio for over 25 years, and loving almost every minute of it. My focus has been specializing in the audio aspect of all types of productions. From consultation, talent selection and direction... to editing, design, and the final mix, I have a wealth of experience to bring to any project.

---
Editing Skills Make a Difference
So many audio producers and video editors are happy just dropping a cut of library music into a project, or grabbing a pre-edited 30 second bed for a commercial. My approach to editing music into a project is a little different. Not only is selecting the right music important, but how and where the music develops in relation to the subject and emotional changes within a script is important too. I take the time to listen for those opportunities to edit and make the internal changes in the music fit the script, giving it more impact, and more of a custom designed music feel.
Here is Just Some of What Clients Have Said
"Dan gets it. Great personality, listens, understands, and is wonderfully creative. Super to work with."
"Well, I sat back and watched the six video elements and all I have to say is…yowsa, that's good video! The music, sound effects and sweetening really drive the videos forward."
"I've worked with Dan for over 20 years on numerous projects covering the entire production spectrum. He's got a great ear and superb taste. One of the best!"
"We just compared your mix for the video with our initial one, and it just came alive"